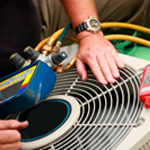 Commercial and industrial HVAC systems are powerful machines, yet they are also delicate pieces of equipment. It sounds contradictory when you first hear it, but those who work closely with HVAC systems will tell you the exact same thing. After all, a poorly maintained system will break down much faster and use up more energy—two things that can significantly increase your costs. We can help prevent such a scenario from happening.
R.J. Mechanical offers comprehensive preventive maintenance services to all commercial and industrial customers throughout Cleveland and the rest of Northeast Ohio. With over 60 years of experience in the HVAC industry, you can count on our N.A.T.E.-certified service technicians to keep your entire HVAC system purring like a kitten.
Maintenance Plans
The whole point of preventive maintenance is to help you save money in terms of repairs and increasing energy bills. This fact is not lost on us, and we want to do our part to help our customers maximize their savings. This is why R.J. Mechanical offers a number of maintenance plans for commercial and industrials HVAC systems, such as:
Packaged Unit Gas Heat Electric Cooling
Lubricate all moving parts as required
Check belts and drives and re-align/replace as necessary
Clean condenser/evaporator coils if accessible or advise
Inspect condensate pan and drain
And more
Make Up Air Unit
Check voltage and amperage of all motors
Inspect burner mixing flares; clean as needed
Inspect burner ports; clean as needed
Inspect and clean ignition sensor
And more
Steam Boilers
Fall Maintenance
Open and clean low water cut offs
Inspect feeder and clean basket assembly
Leak check gas line from gas cock to manifold
And more
Water or Air Cooled Chiller
Inspect chiller and condense barrel; advise on condition
Inspect wiring and tighten all connections
Check voltage and amperage of all motors
Visual check for refrigerant leaks
And more
To learn more about our preventive maintenance services, please do not hesitate to give us a call at 1-800-805-8076. You can also reach us by sending a message through our Contact page. We proudly serve customers in Cleveland, OH and the rest of Northeast Ohio.